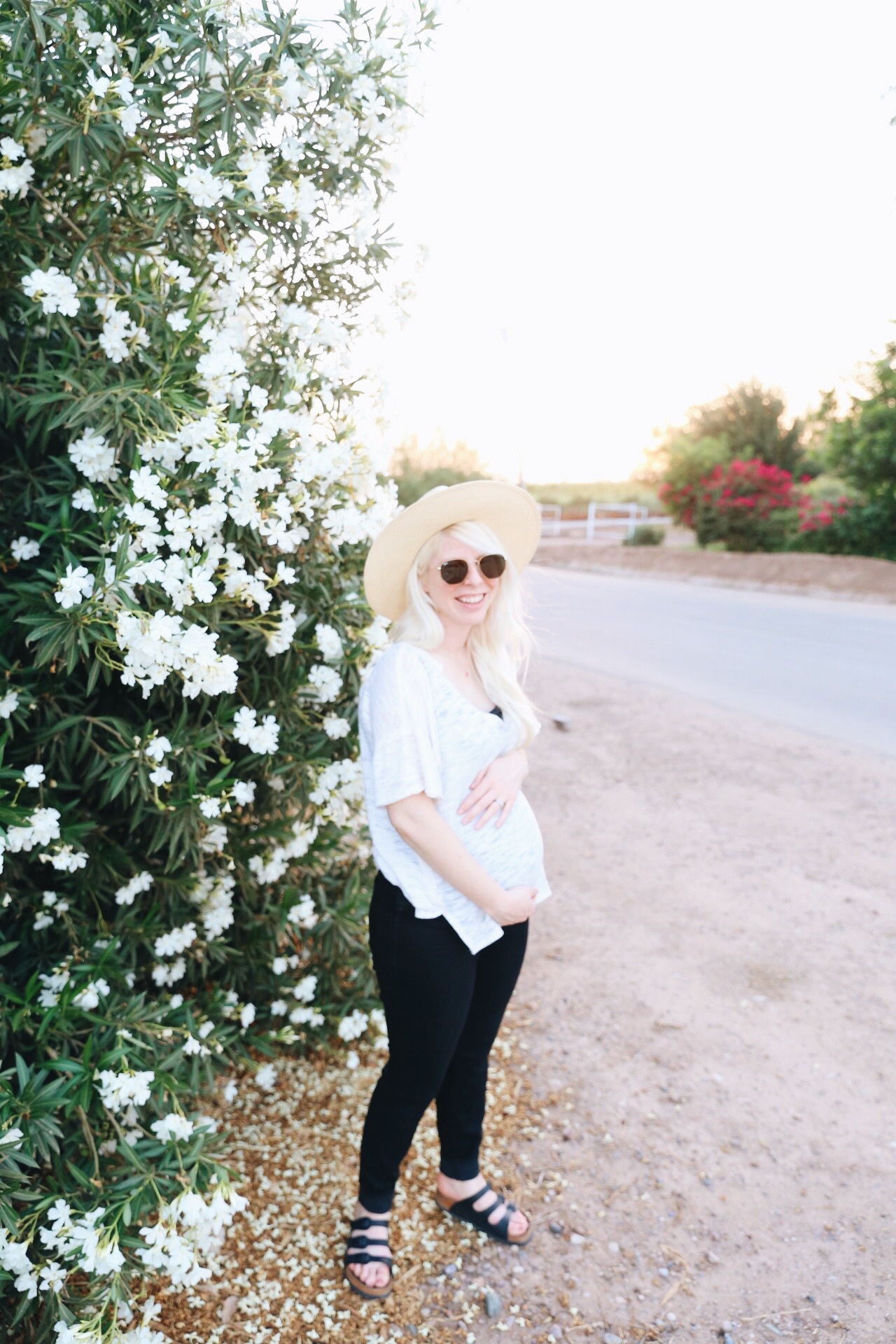 I'm just going to cut to the chase — ya'll know I'm a jeans girl at heart! While I love wearing (and let's be real — buying dresses), I could wear jeans every day for the rest of my life and be totally happy. I know that's a big statement, but I really LOVE my jeans. With all that said, though, pregnancy has thrown a bit of a wrench into my jean wearing days.
In the beginning, my high-waisted Madewell jeans were just feeling bit snug (that first trimester bloat is REAL), and then eventually I had to use the old rubber band trick to give myself a little extra room on top. A fews week later, and right into the beginning of my second trimester, maternity jeans became a must! I will admit, though, that I had been researching maternity jeans from pretty early on knowing that my high-waist favs probably wouldn't last long! I must have ordered 15+ pairs from all different price points and stores, including different styles and sizes. Ultimately, I found two pairs that have my go-to's since about 12 weeks on and I'm stoked to share them them with you. To keep things fair, though, I also wanted to share all the jeans I did order and why they did or didn't work for me! Without further ado —
My Top Picks:
Madewell Maternity Skinny Jeans in Black Frost – These are my absolute FAVORITE pair of maternity jeans! I never thought I would be an "under the bump" kind of gal, but these are high in the back, don't fall down and are super comfy with their stretchy pocket inserts. These are also the closet cut to my favorite non-maternity jeans, so I guess you could say they were meant to be!
Paige Transcend – Verdugo Ankle Skinny Maternity Jeans in Mona – When I was on the hunt for maternity jeans, this Paige jeans kept coming up in conversation — and ya know what? Everyone was right! They're super comfy, hit at the perfect length for this short legged gal and the stretchy panels are perfect for my growing bump!
Honorable Mentions:
Madewell Maternity Skinny Jeans in Black Sea – These were actually the very first pair of maternity jeans I ordered and they're currently sitting in my closet — just waiting for my bump to get a little bigger! Knowing how much I like my high-waisted jeans, I figured that "over the bump" style maternity jeans would be me my jam — and while that may be true once the bump is a little more pronounced, right now I prefer a lower cut jean. These do fit true to the Madewell style, though, and the knee rips just add something a little extra!
Madewell Maternity Skinny Jeans – Knee-Rip Edition – These are the first pair of maternity jeans I sent back and also the first pair I wish I would have given a second try! Something about these just didn't sit right the first time around, but now that I'm all about the under-the-bump jeans — these sound right up my  alley! I might be re-purchasing them sometime soon! 😉
Madewell Maternity Skinny Jeans in Danny – I haven't actually tried these on, but I have a hunch they would fit just like the over-the-bump Madewell jeans I do have in my closet! The not too light, not too dark wash feels very summery and perfect for the second half of my pregnancy as my bump gets bigger and bigger.
Not For Me:
Ingrid & Isabel Sasha Maternity Jeans with Crossover Panel – I ordered these after seeing them on numerous gals and really wanted to love them — alas, the cut of them just wasn't right for my body and the material that the belly band was made of was way too thick for our Arizona summers.
Asos Maternity Ridley Jeans in Bright Light Stone Wash – I had heard so many good things about Asos' maternity section and had high hopes for these expensive maternity jeans — but sadly, they were a bust! The band hit me in all the wrong places, but I did really like the color!
Asos Maternity Lisbon Jeans in Clean Black – Like the jeans above, the band on these were all wrong. I do remember liking the feel of the jeans, though — and the length was perfect! Darn it!
Finally, now you know all my favorite maternity jeans and the ones, that if you are expecting, you can just skip right over! Mamas or Mamas-to-be, I would love to hear about your favorite maternity jeans and staples — I'm all ears!
-Chelsea xo
PS That's my 21 week baby bump right there! 😉