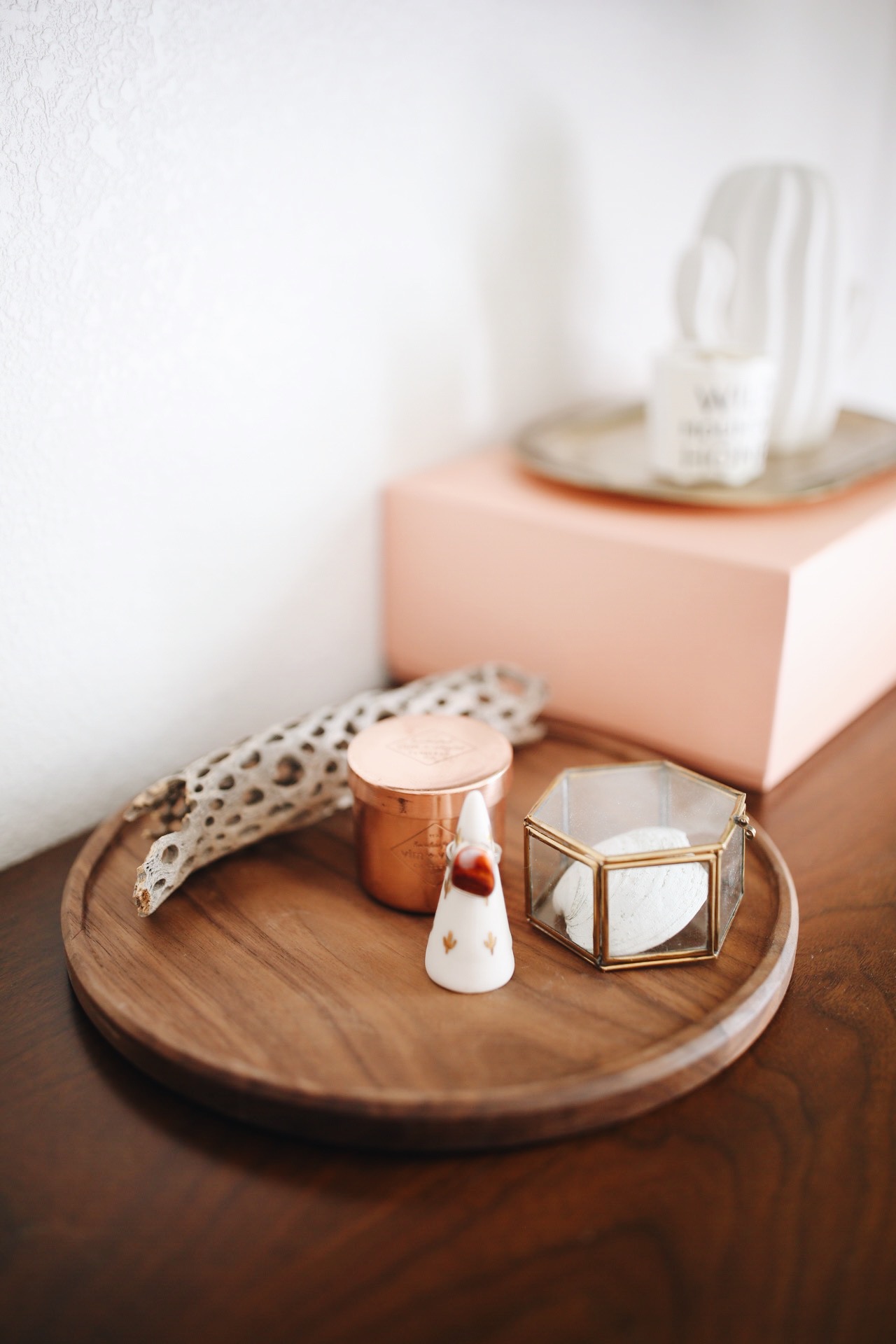 With the hustle and bustle, and let's be real — the tiredness that has come along with my pregnancy, I haven't been spending much time on updating our home. However, lately I have been up to my old ways here and there with that second trimester energy kicking in along the way — and one of the most simple ways I've found to switch up our home that comes with very minimal work — styling up our decorative trays! Truthfully, I can't count the the trays we have in our home on one hand — although, I will say most of them are vintage or handmade by Scott — but trays really are such a great way to bring character and charm to an otherwise lackluster space in your home!
Here are my favorite ways to style up decorative trays —
Three of a kind // Three seems to be that magical number that makes all home goods come together — whether it be three brass candlestick holders (a personal fave), or three trinkets from your travels — three is the perfect number of items to bring together to tell a story in your space!
Varying Heights // While three is the magic number, don't forget that it's important to keep the heights of each item varied!
Plants are your friends // A little greenery does wonders for a space! Among my favorites that will fit onto a small tray — succulents, dwarf palms and single monstera leaves.
When all else fails, flowers to the rescue // Fresh flowers have a way of bringing a space to life! Some of my favorite florals to decorate with are — peonies (of course!), baby's breathe, ranunculus, eucalyptus with white roses and more!
Here is also a few of my favorite bits and pieces to style up our decorative trays with —
Standard Wax Candles – A local favorite that can be found all throughout our house!
Crystals – Quartz is my favorite, as it's meant to regulate the energy in a space!
Coasters – A must around our home — good thing Scott makes and sells his own! 😉
Jewelry holders – My sweet friend, Krista, makes the most darling ring holders (pictured above), and I love having her beautiful ceramic pieces all around our house!
Pretty AND informative books like –
Are you into decorative trays? What are your favorite ways to decorate your space?  I'm always on the hunt for new ways to add some beauty and interest  to our home and would love any tips or tricks you have! Anyways, I hope you guys are having an amazing start to your week and I'll be back soon!
-Chelsea xo