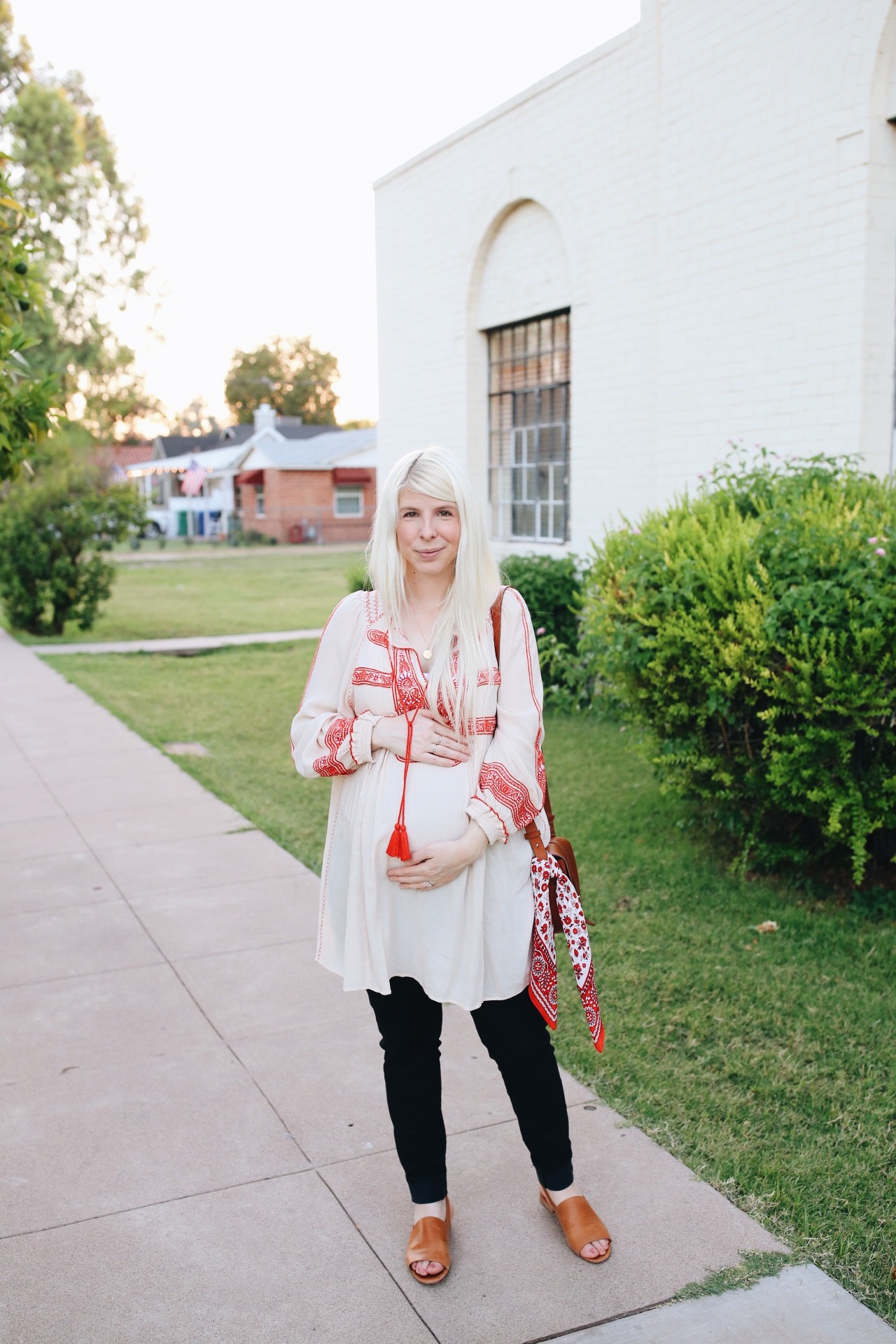 Hello there! I'm officially 24 weeks and can't believe I'm sharing my first outfit in months! In all honesty, I had fully intended on keeping up with sharing my daily wears — but with a growing bump and being in that in-between state for quite a few weeks [ya know, where you sort of look like you just ate a big lunch 😉 ], taking a little break just felt right! However, I have been documenting my baby bump each week and recently shared my first batch of photos + thoughts on weeks 14-18 of pregnancy! Anyways, here I am at 21 Weeks, rocking my favorite maternity jeans and a flowy top (my go-to lately)!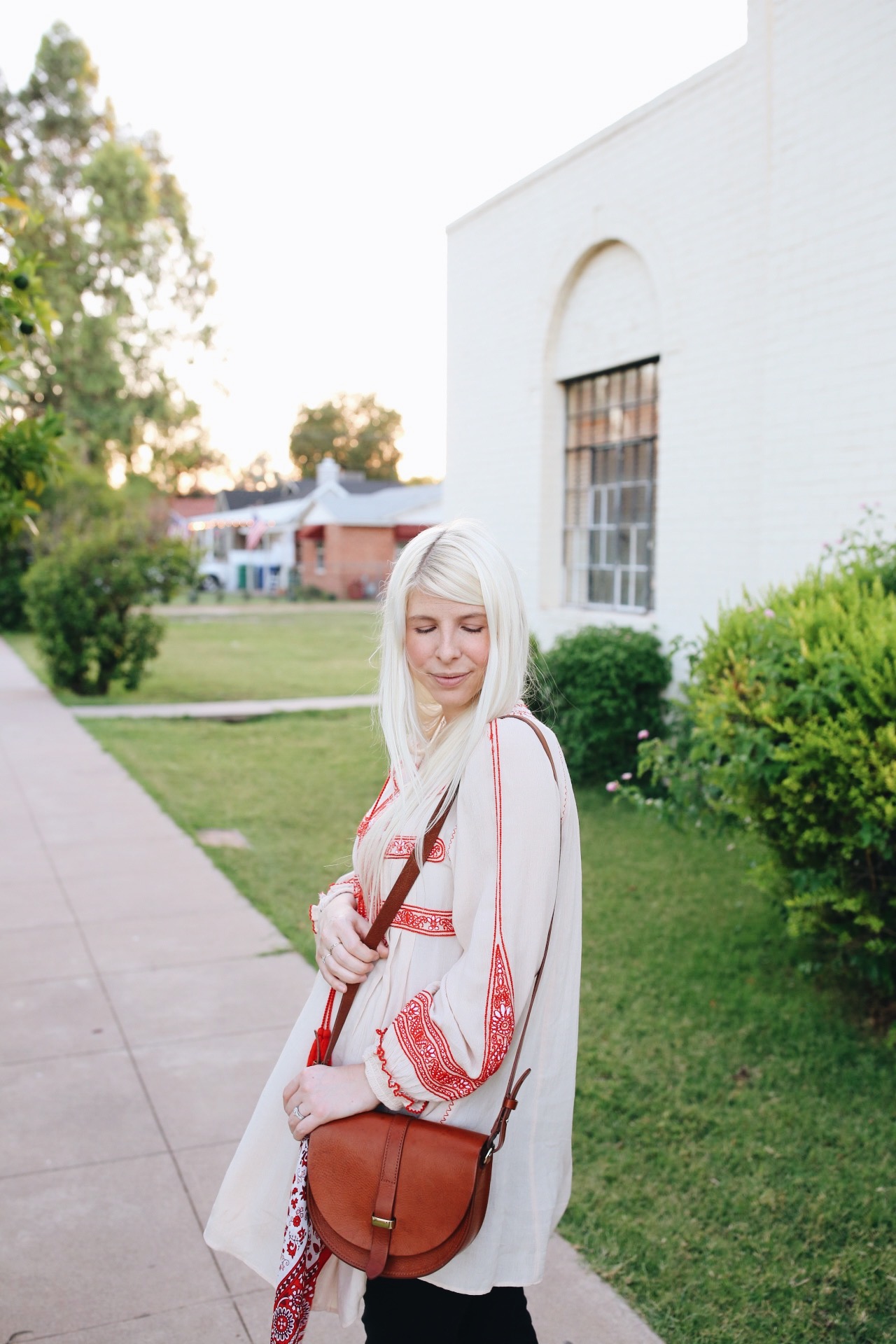 Truth be told, dressing the bump has been a little harder than I thought — I mean, ya'll — your body changes and grows SO much every week that it almost feels hard to keep up at times! However, I feel like I'm finally getting the hang out of it and starting to purchase items that will (fingers crossed) see me through the rest of my pregnancy! Now that the bump is more prominent, I also plan on keeping up with more outfit photos — in the hopes that I'll be able to help and inspire others who are expecting AND as a diary of how I dressed this growing body of mind during such a special time in my life!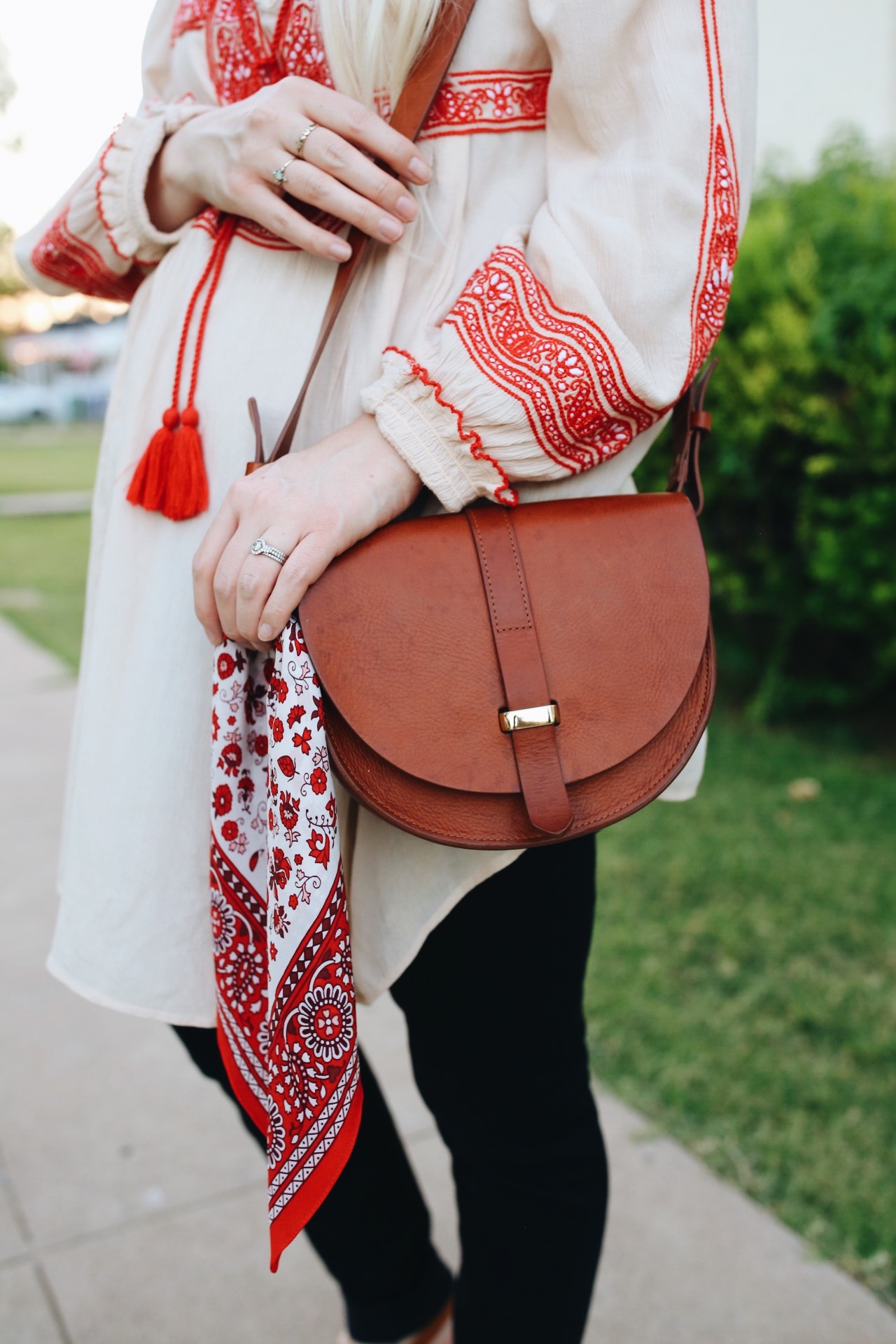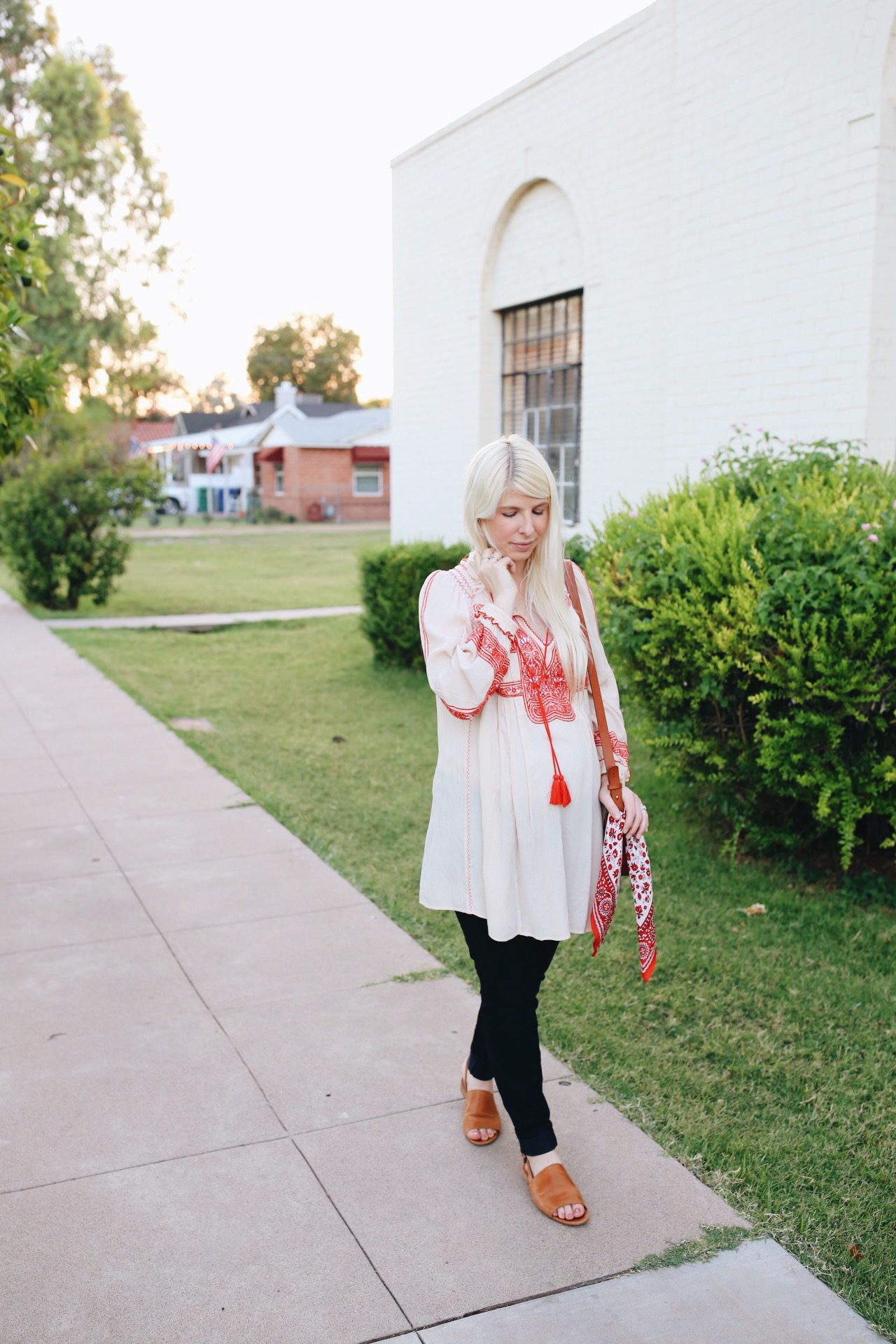 These photos were snapped during my 21st week of pregnancy — a week after we found out that we're expecting a baby BOY! This week, and the one before, felt like a whirlwind! Having our 20 week ultrasound was all kinds of magic and I can't wait until I get to see our baby boy up on the big screen again. Between the weeks from then to now I've definitely "popped" and the bump can't be hidden anymore! It feels pretty wild having a bigger bump all the time — sometimes I walk by a mirror and catch a glimpse of myself and just think, "WOW! Look at my bump!" It has been fun having people start to notice and ask when I'm due! I know it might not always be that way, especially if/when those ,"You look like you're going to pop!" comments happen, but for now — I appreciate people asking!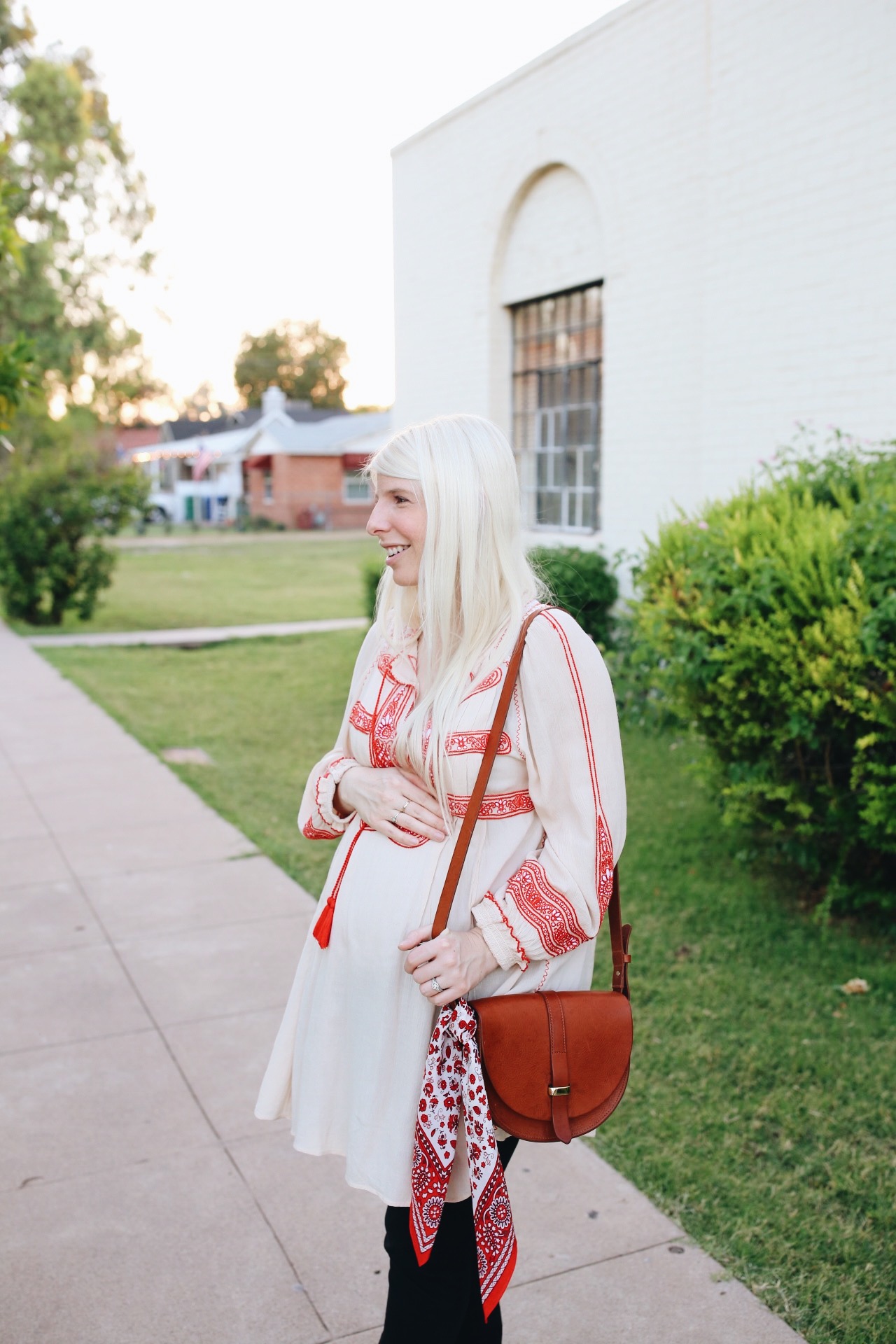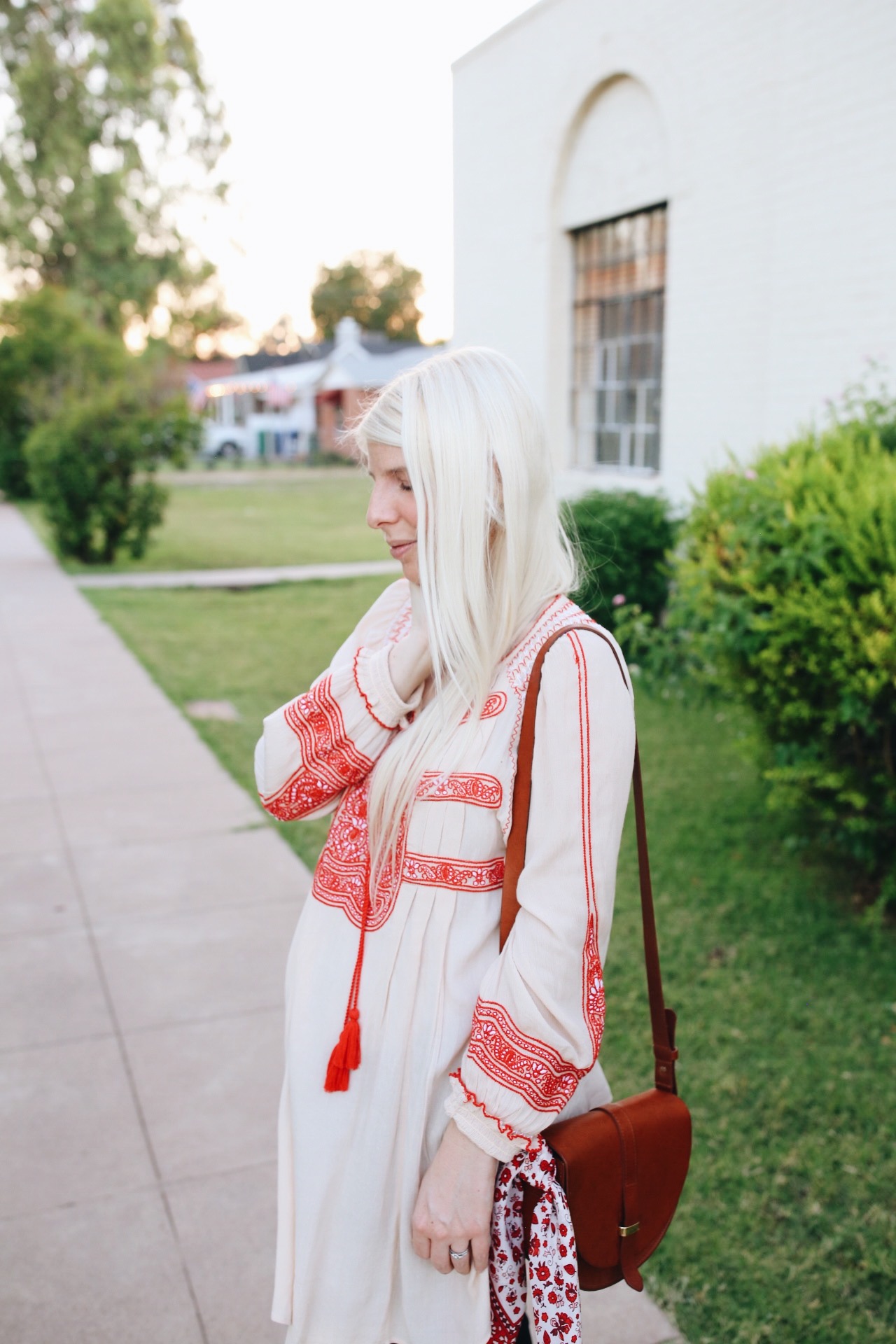 I hope ya'll have been enjoying my maternity focused posts lately! I've really loved sharing my journey and feel so thankful to have a place to document my thoughts, favorites and growing bump. Truthfully, I feel like pregnancy has opened my heart up even more and eased my fears about sharing things that in the past I might have been to shy to share (even after all these years), and only hope that by sharing my own experience that I might help or put to ease someone else in the same stage of life as me — as so many posts did for me, especially during the early days of my pregnancy!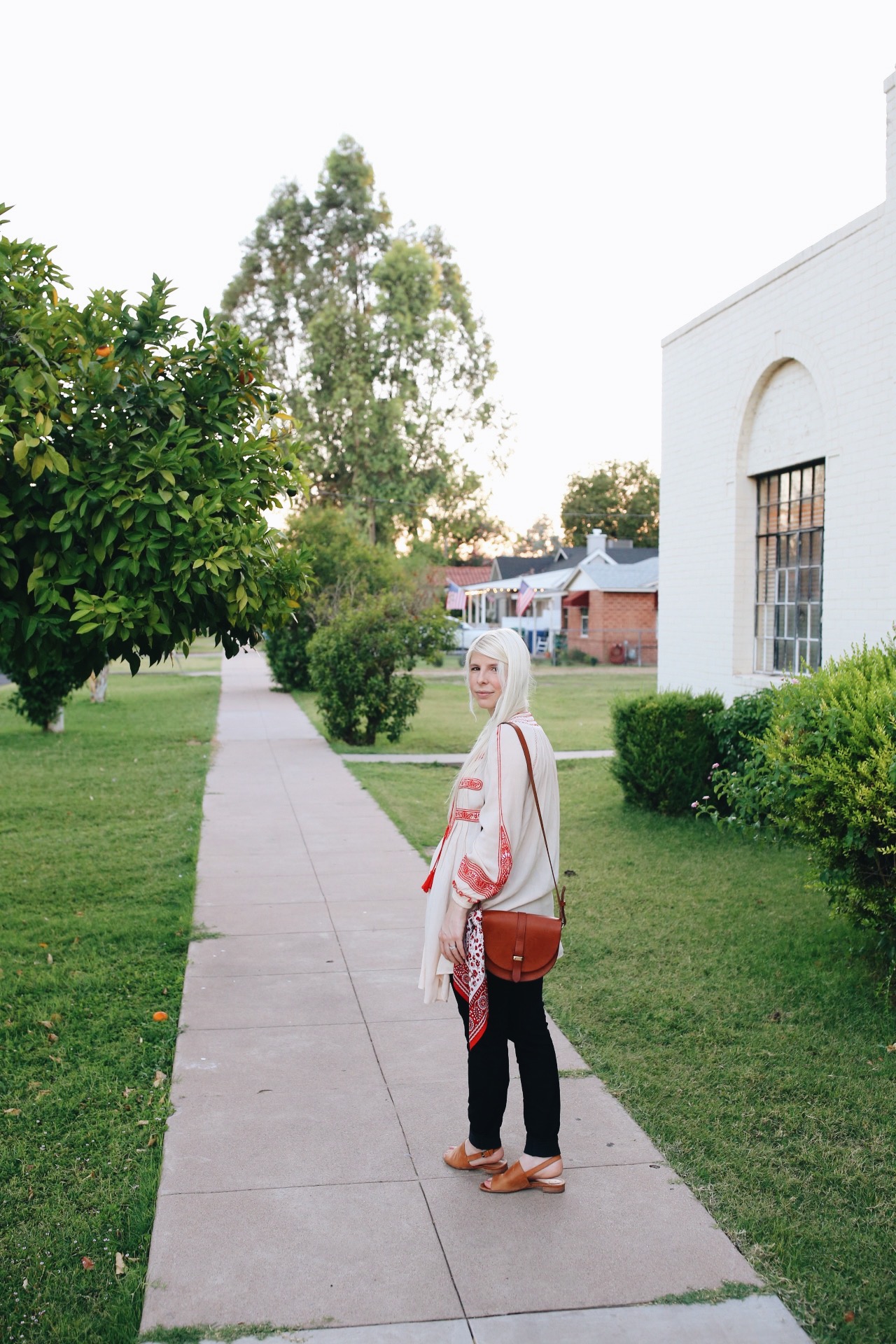 Outfit Details:
Madewell Maternity Skinny Jeans
Free People Wind Will Minidress
Madewell Silk Scarf
Sezane Purse
Madewell The Noelle Slingback Sandals
Ok, I'm off to bed (it's currently 10:30pm and I'm whooped!), but I'll be back soon to share more outfits, thoughts on pregnancy, everyday life, etc. — I know ya'll know the drill after nine years! 😉
-Chelsea