This post is sponsored by Kohl's. I was paid for this post and received the included home goods as compensation.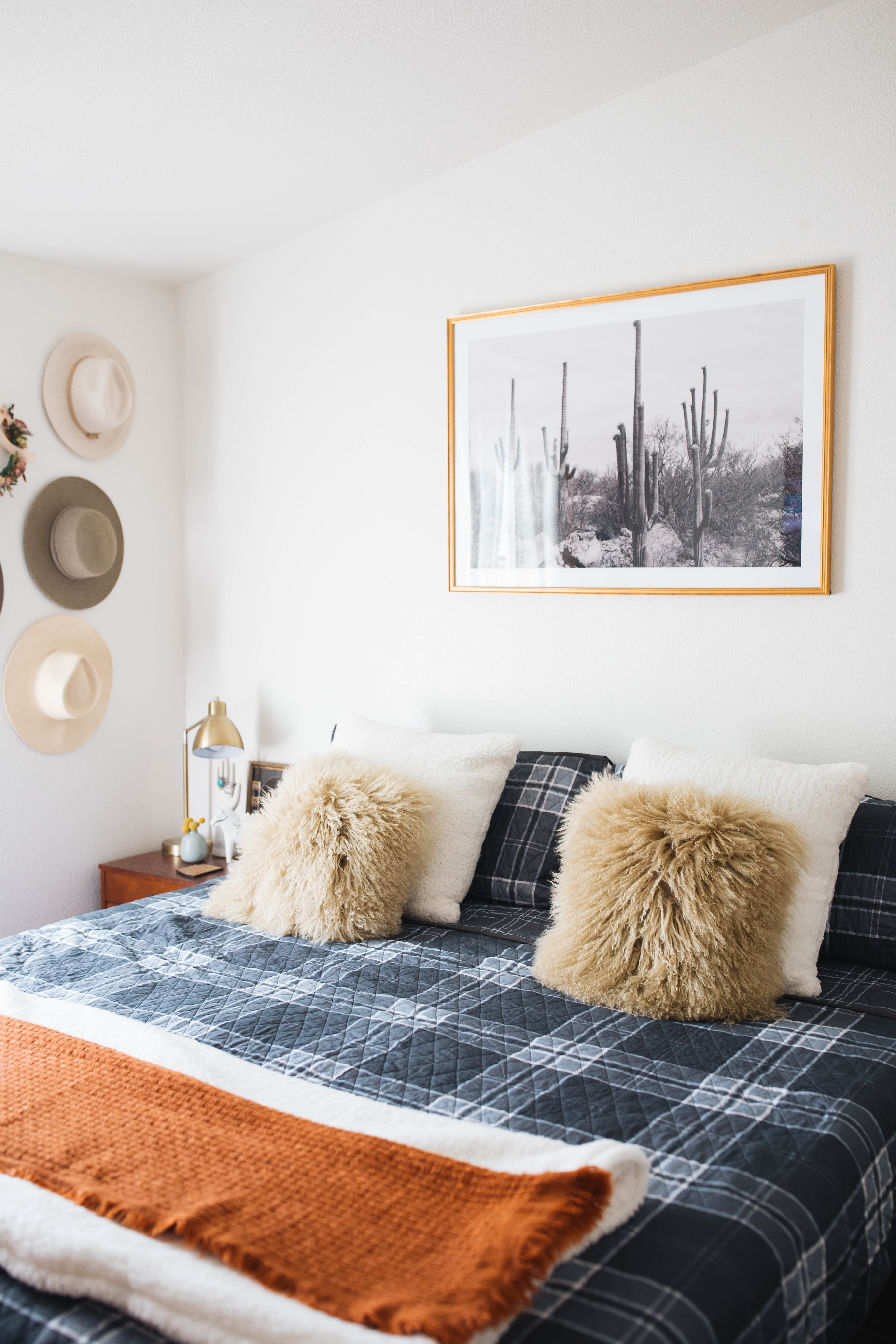 With the holidays right around the corner, Scott and I have been prepping and preparing for not only our busy season with our small business, but also the birth of our little guy! Knowing that he could have come any day (he was born on the 3rd of November), we've been working hard on wrapping up a few projects and getting our home ready for the chilly and cozy season ahead [because we hear things are a little harder with a baby around, ya know 😉 ]. Knowing how much we loved our experience with shopping at Kohl's this summer (they have a huge selection of quality home essentials!), we decided to head back there to shop their November Home Sale, which is running right now from November 7th through November 18th, so we could shop a few of our favorite brands, including Serta, Columbia, The Big One and CuddlDuds for amazing pieces and prices all around!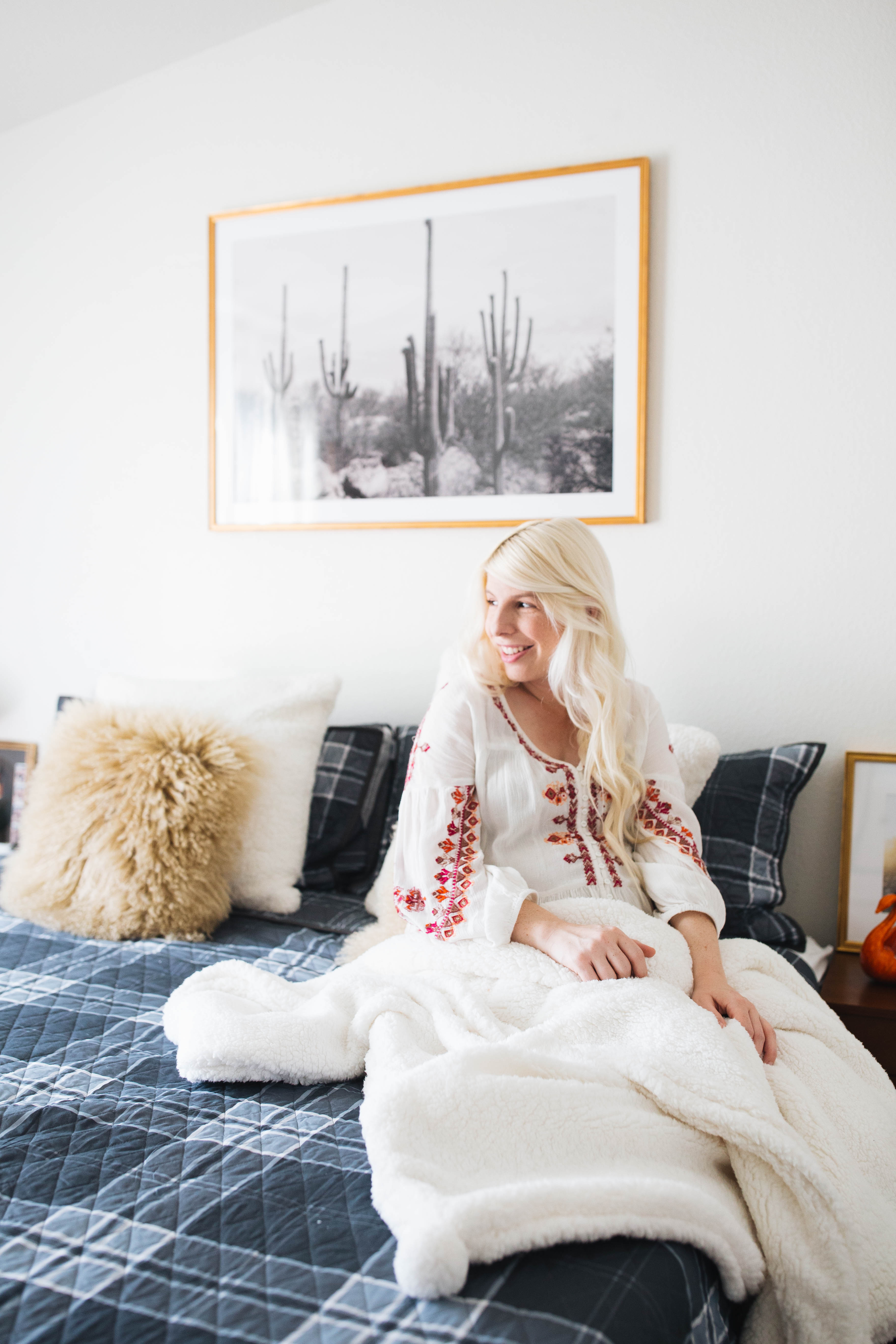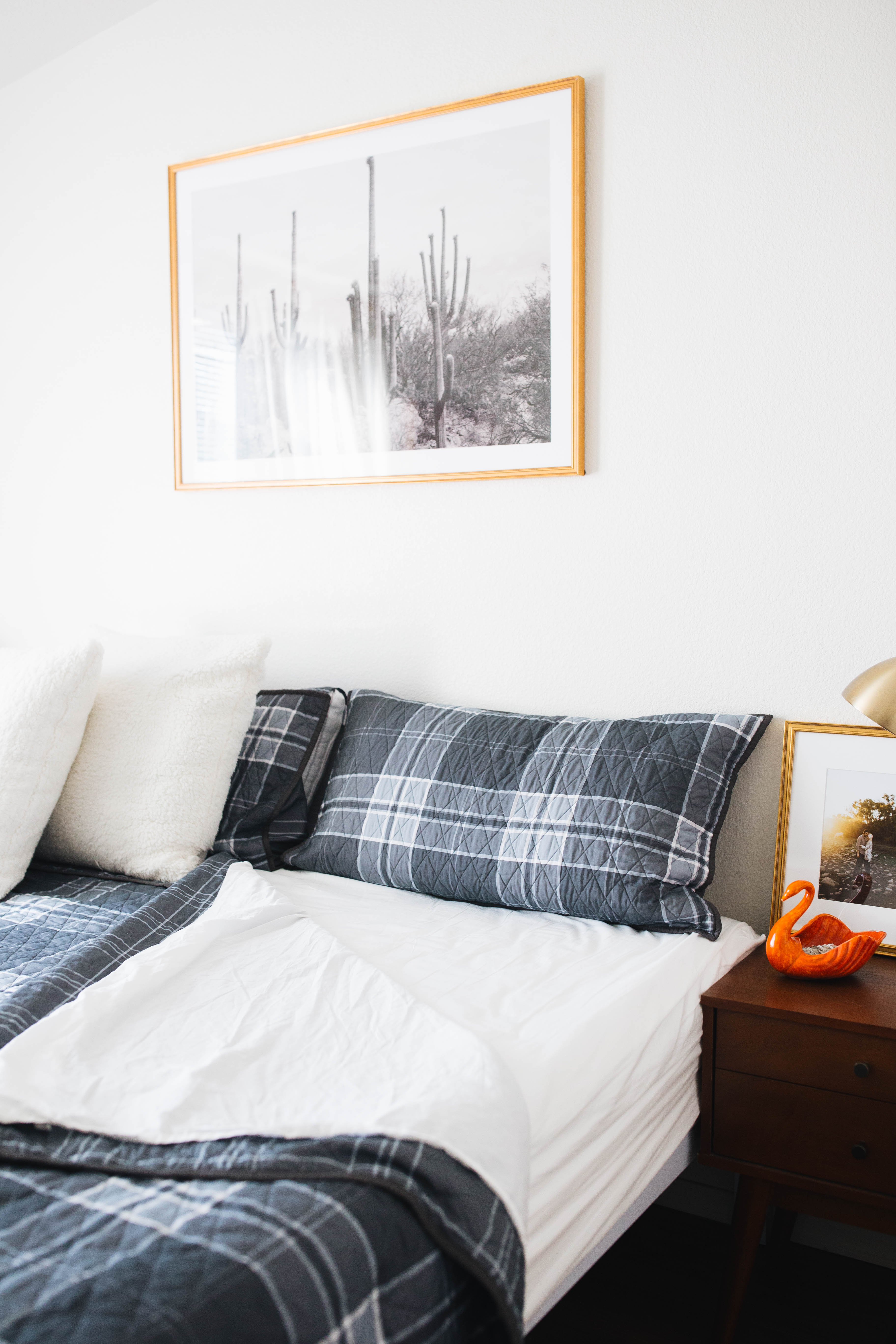 While our space might be small (#tinyhouseproblems), we like to think that the holidays and winter months sure bring out the best in it — warm blankets, fluffy pillows and the coziest setup you ever did see! Knowing that our bedding was going to need an update to accommodate for the cooler temps we'll be having here shortly (and a few warm days here and there as well), we opted for purchasing a few pieces that could not only work in our bedroom, but also in our living space and even in the baby's room — for those late-night feeds, ya know!
Staring with our base, we opted for a fresh set of the Columbia Cooling Sheets in white! We had previously purchased these sheets the last time we updated our bedding and have been loving them ever since! Being nine months pregnant, I was running hot, hot — so having a cool base has felt like a must. Now that this baby has come, though, I'm ready to switch to using the Columbia Performance Flannel Sheets — which I know will be extra cozy and warm during the holidays!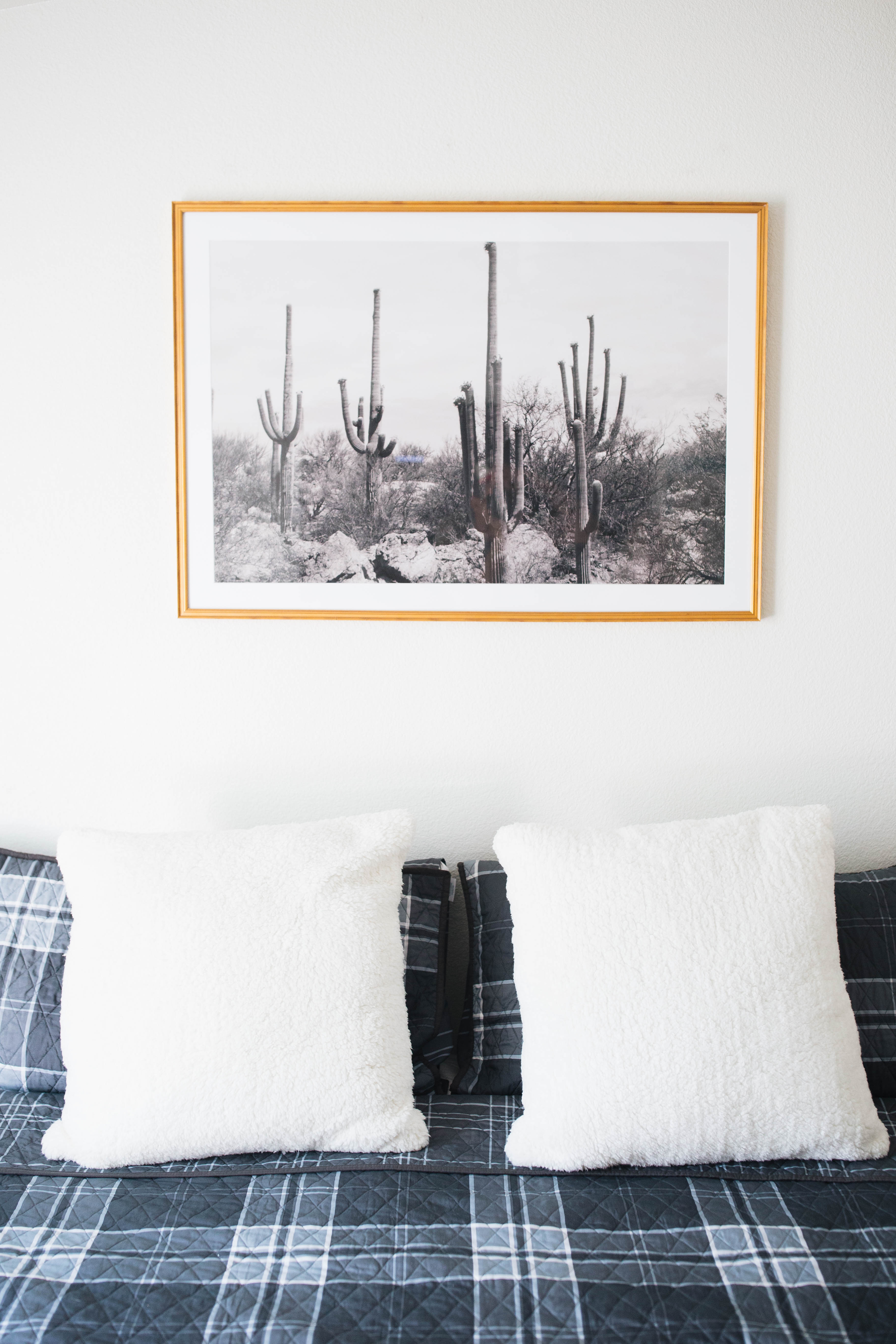 Up next on our list was a new comfy and holiday appropriate quilt set! Kohl's had SO many cute ones in their sale, but this Reversible Quilt Set by The Big One in Gray Plaid quickly caught my eye. I wanted something that could feel festive, while also mixing well with pieces we already owned — like that rust throw and my beloved furry pillows! Scott and I are both big fans of how comfy the quilting is on this and am really enjoying a change from our usual comforter! Plus, our space feels that much more festive now!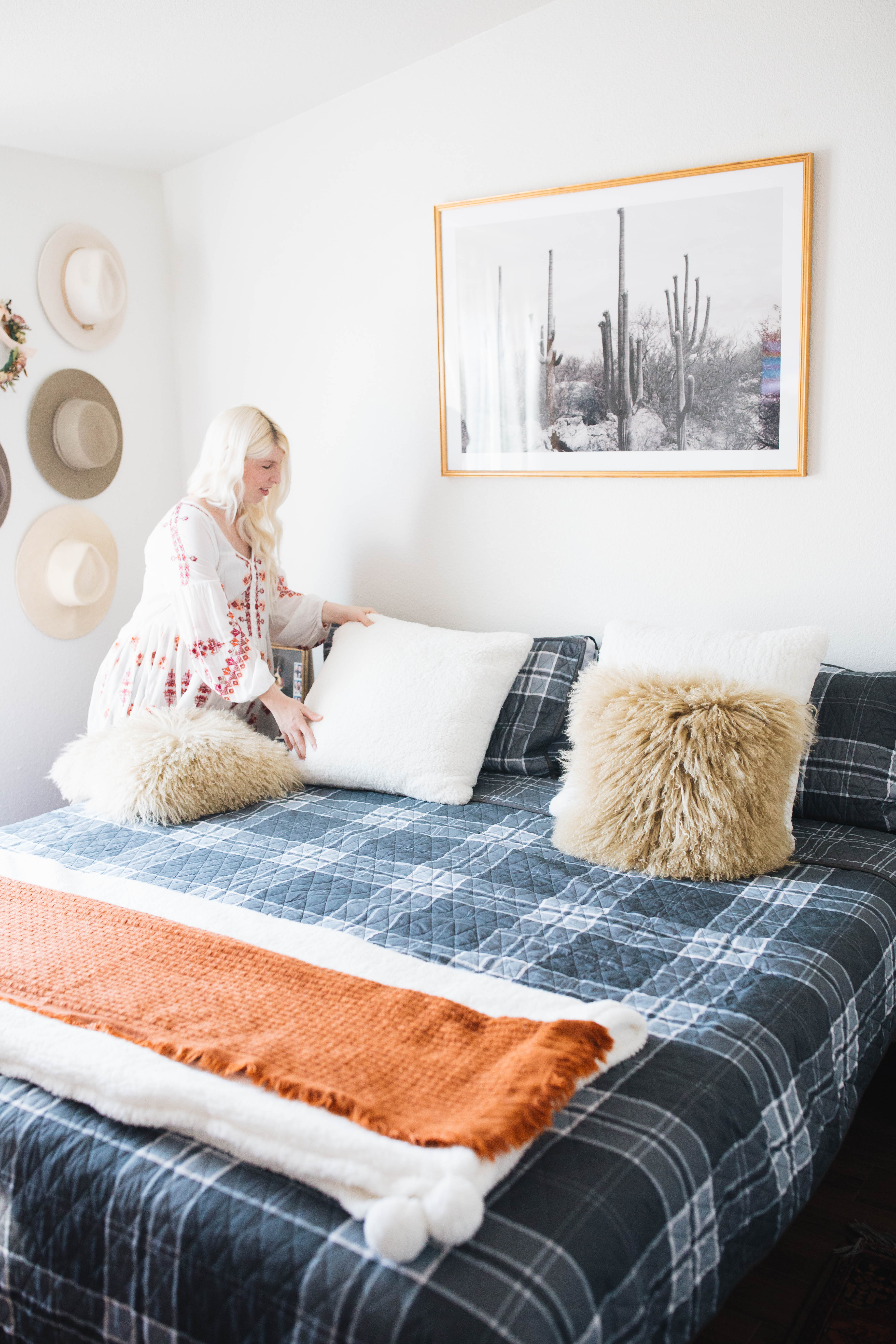 Now that we have the basics down, we decided to add a few accessories that could not only work in this space but throughout the whole house as well! First up, these CuddlDuds Sherpa Oblong Throw Pillows that I am OBSESSED with! They're perfectly oversized and super soft to the touch — perfect for our bedroom or living room (especially on movie nights — The Holiday, Love, Actually — anyone?)!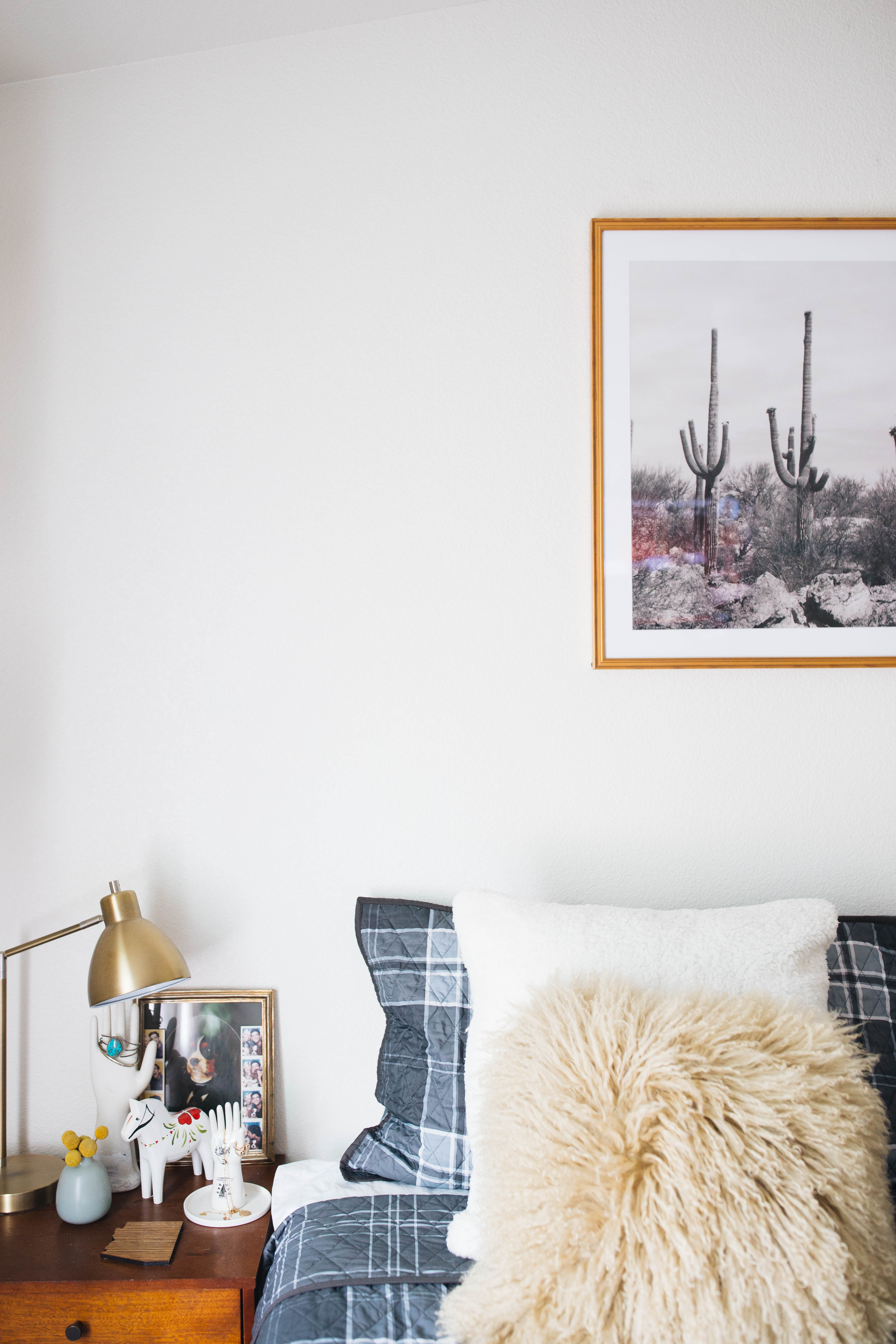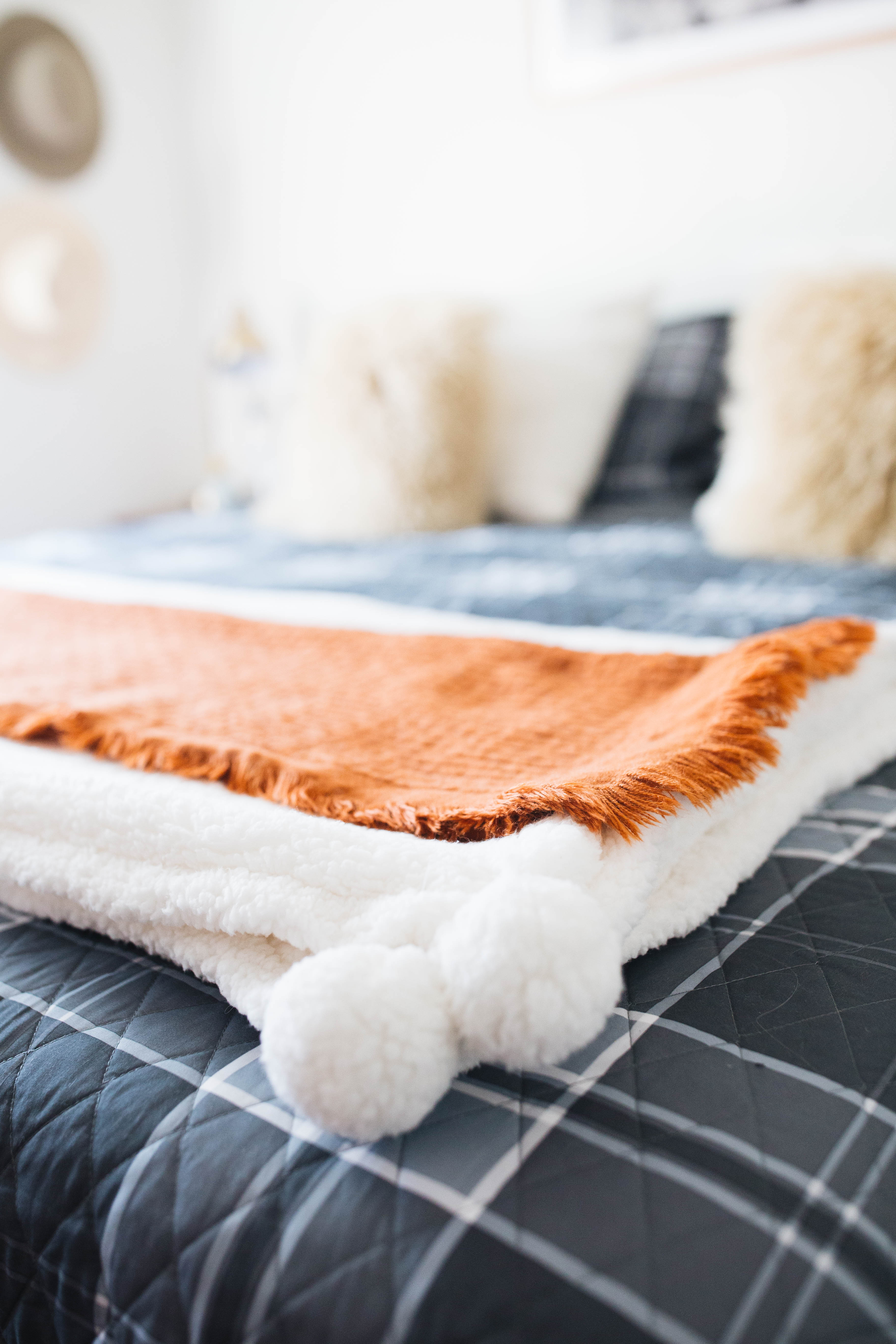 To wrap things up, the last item we grabbed was this CuddlDuds Plush Sherpa Fleece Throw! I am honestly so excited to have this cozy throw in our home and can already imagine our baby wrapped up in it during the colder months. Plus, the pom poms on it are super cute! The buffalo plaid print of this same throw looks so warm, as well, and would add a festive flair to any space.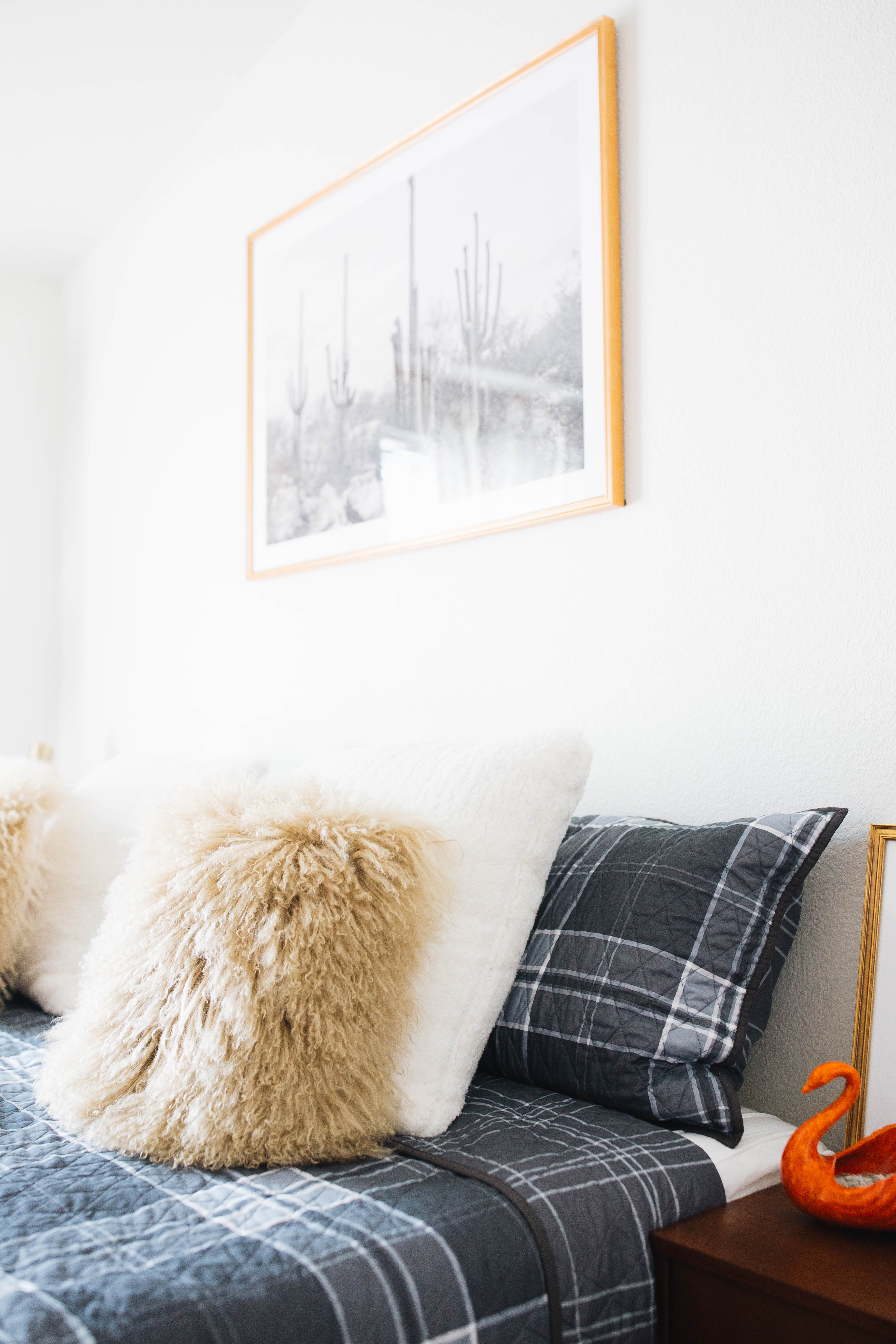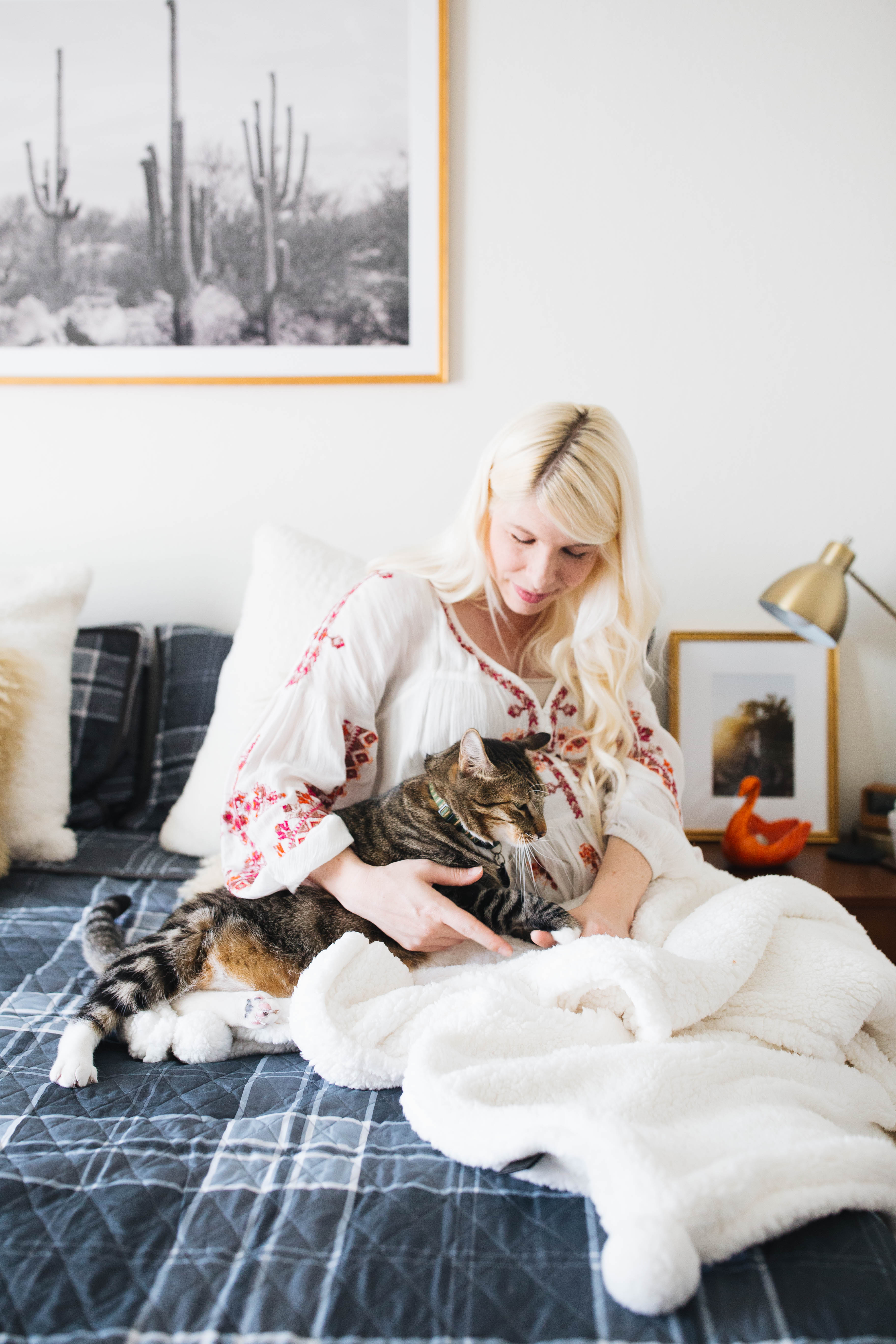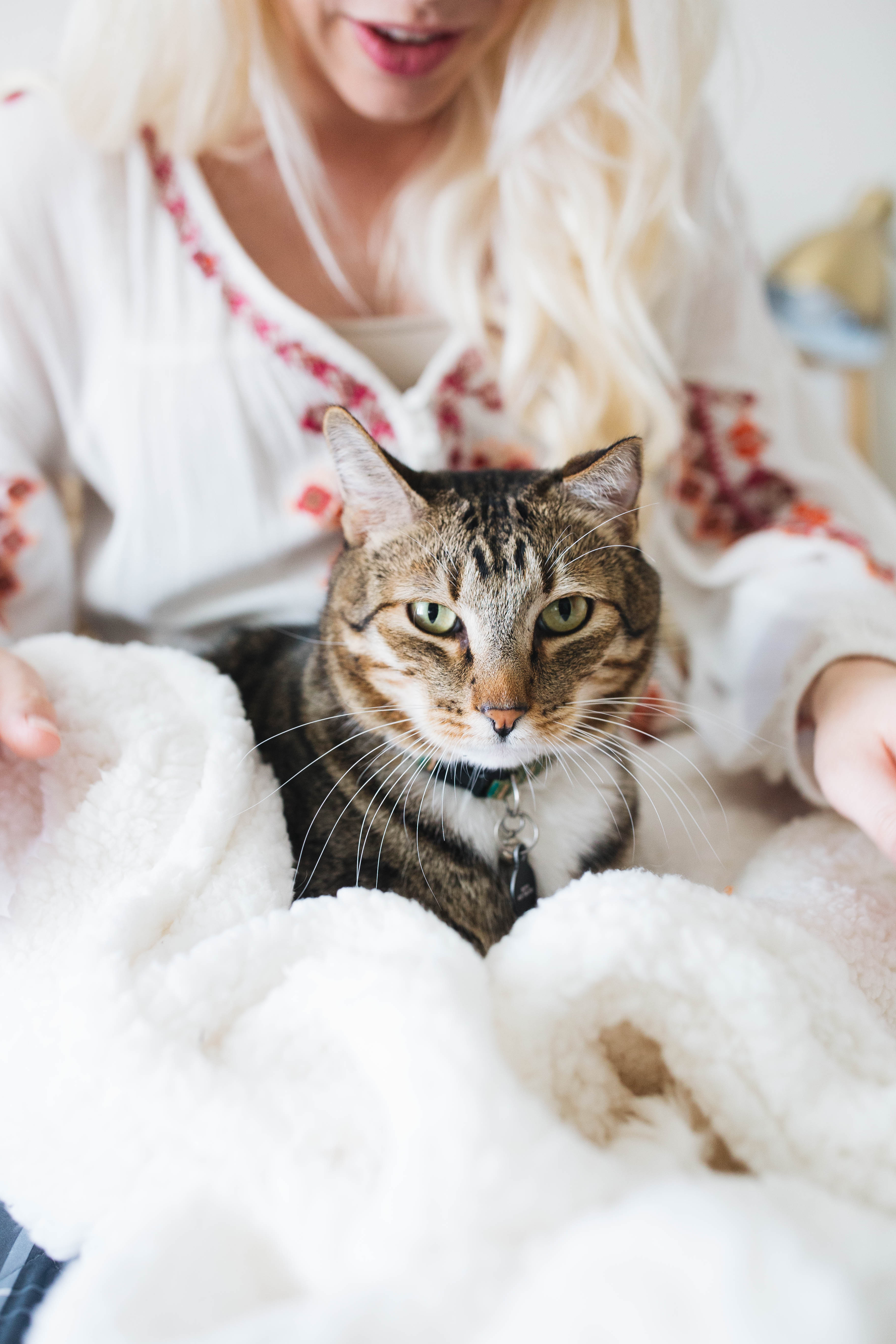 Now that our bedding is updated for the months ahead and we have a few pieces that we can mix in and out of our space for a festive, cozy look — we're all ready to get things moving around! Lots of holiday markets, our baby boy's big arrival, Thanksgiving, Christmas — bring it on! Don't forget that you can now shop Kohl's November Home Sale through November 18th, including cozy brands like Serta, Columbia, The Big One and CuddlDuds all at such amazing prices! What spaces in your home are in need of a holiday update? We may not have a guest room, but if we did I would also be updating it with cozy bedding for the holidays ahead — eck!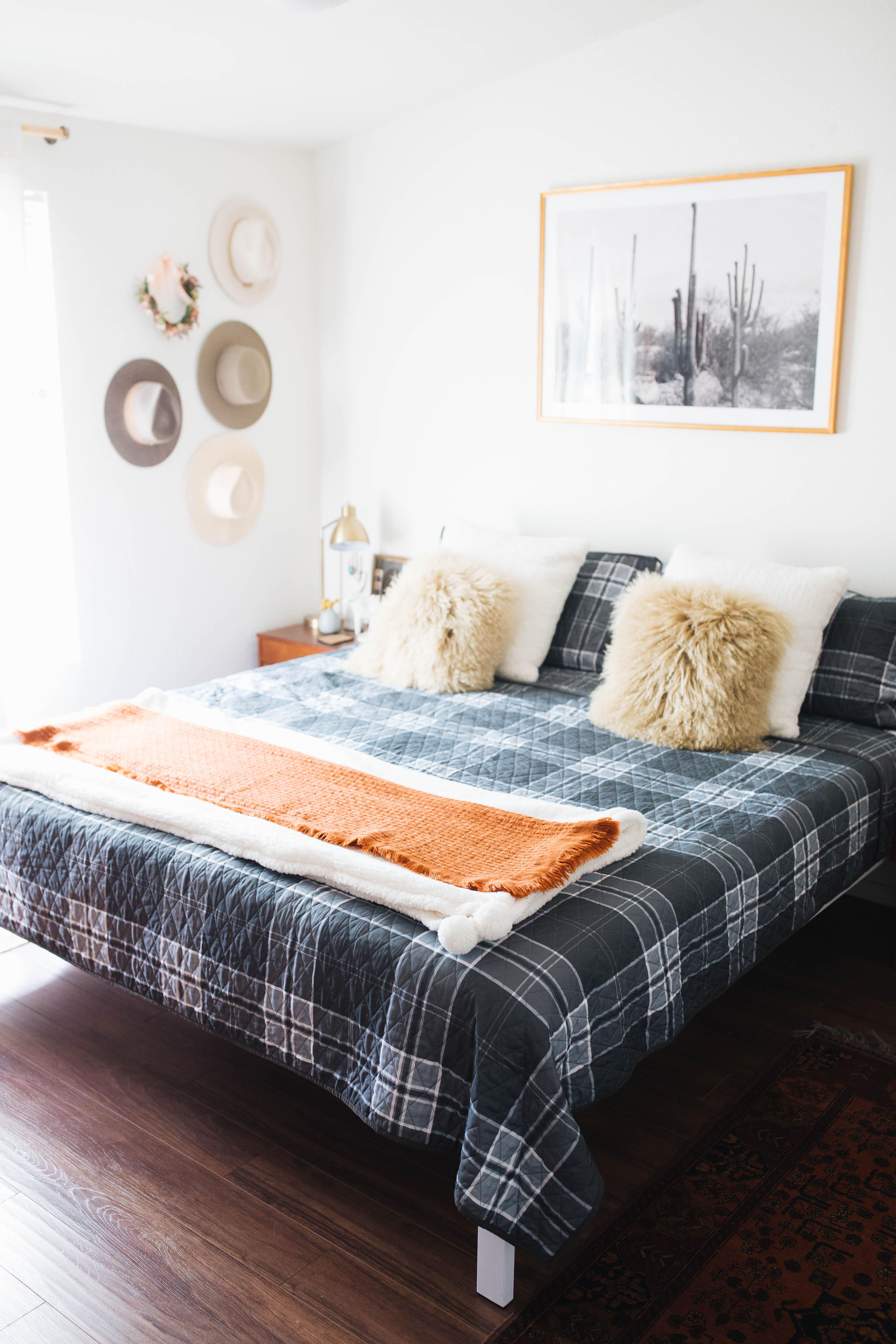 My blog may contain links to other websites. I am not responsible for the privacy policies of those other websites. When you click on a link, your information may be collected by those websites so I
encourage you to read their privacy policies. Any affiliate links are not associated with Kohl's.