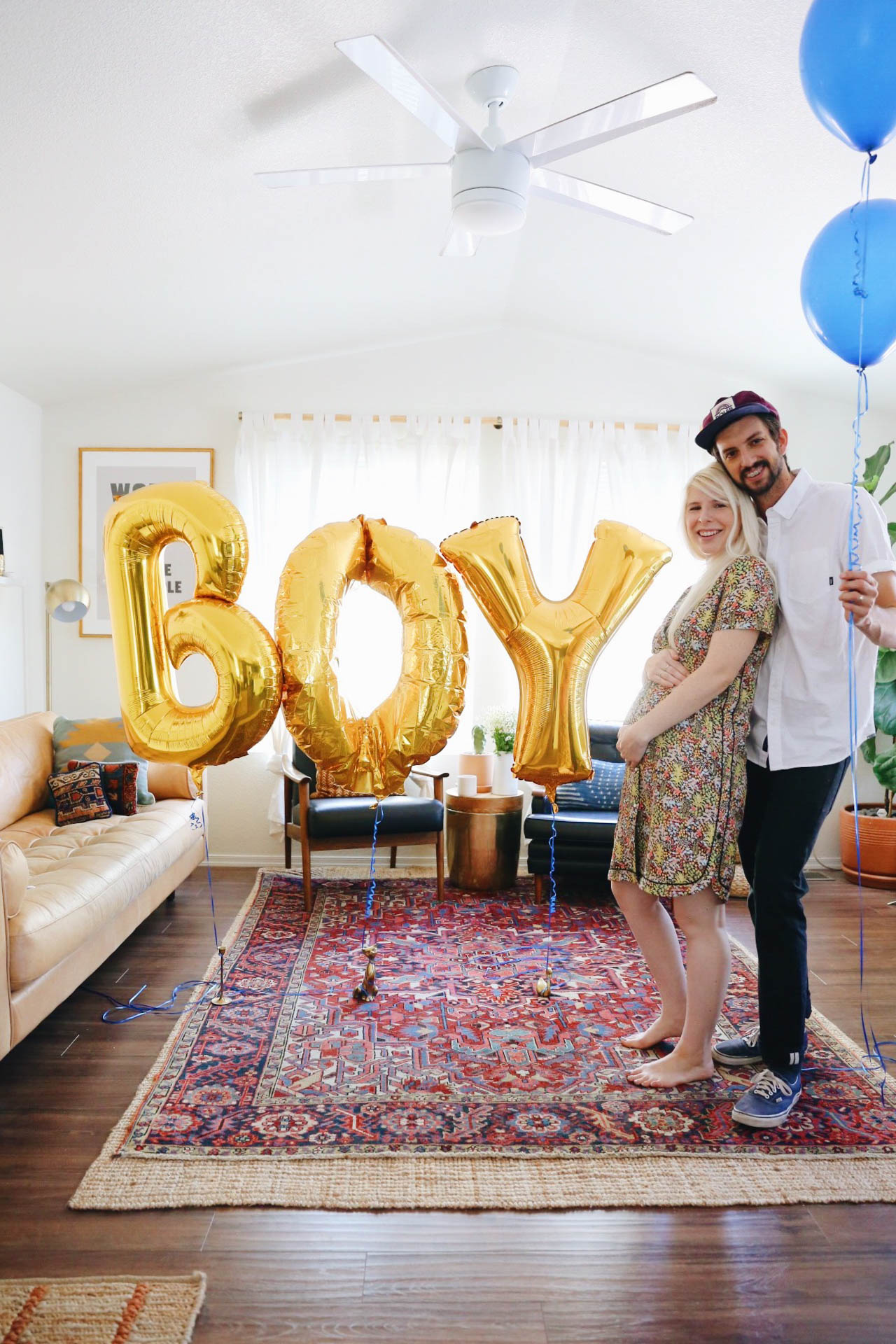 Baby Goodson is a boy and we couldn't be more thrilled! Scott and I had our 20 week ultrasound/anatomy scan on Friday and finding out the gender of our baby was at the top of our list. I truly wish I could be one of those people who waited until the baby's birth to find out the gender (like my mom did with me), but I am such a planner and really wanted to have clear vision of what to expect — lots of pink or lots of blue! However, we are ecstatic to finally know that a baby boy will be joining our crew this fall and just know he's going to be adorable and super handy later in life (just like his dad, haha).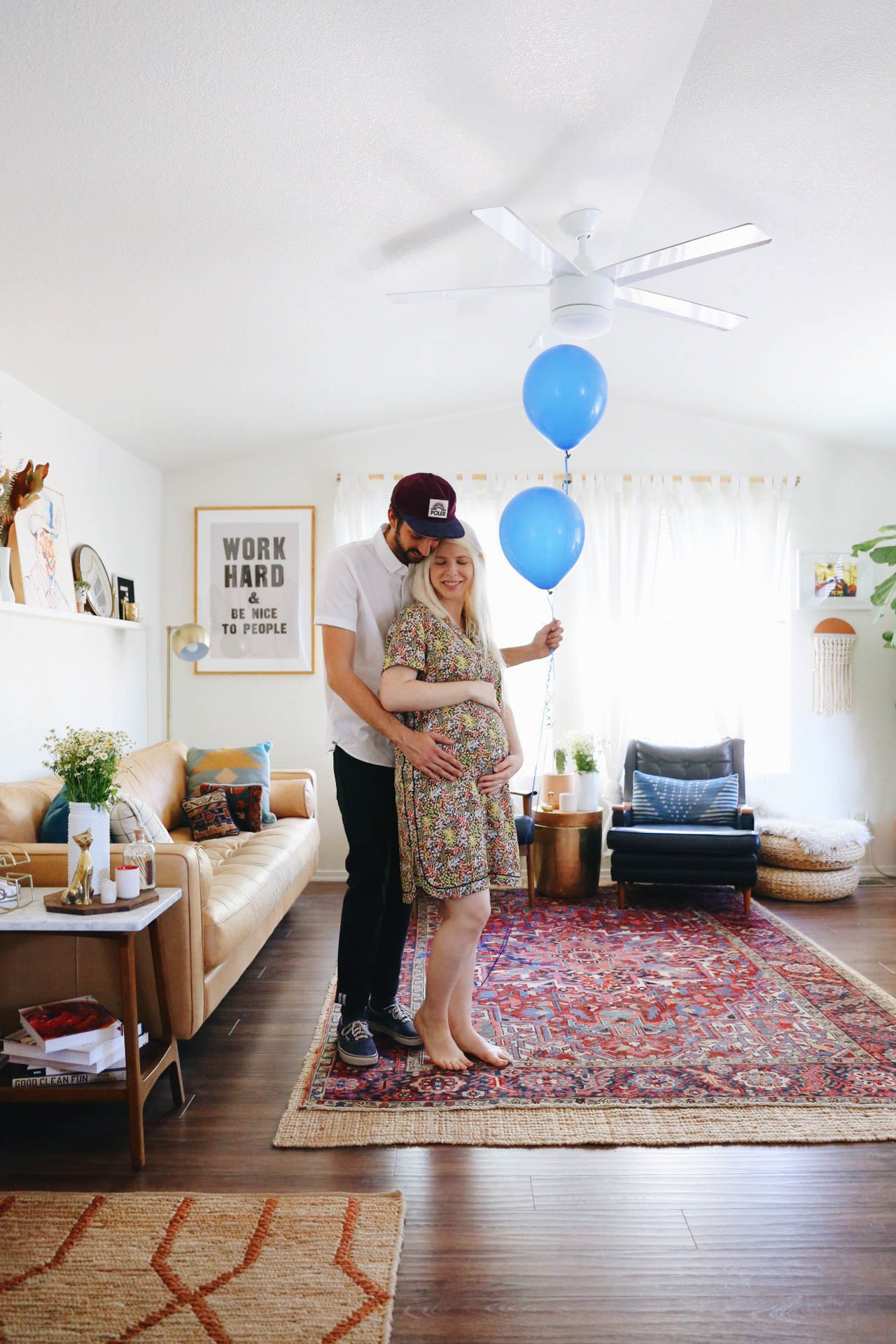 Backing up to Friday morning — we were so excited fo finally have this appointment and to be hitting the half way mark! We went into our appointment not knowing if we would be welcoming a baby boy or girl into our family, although — I will say that we were thinking that we were having a girl, mostly because we've always had a strong vision that a little girl would be a part of our family one day (and let me be honest — I know nothing about little boys!). After our ultrasound our doctor was SO sweet and told us that it doesn't mean we couldn't be welcoming a little girl next time. Cue the tears — I swear I've been so emotional the past two days since we found out. I am just so, so incredibly thankful to know that we have a healthy, happy baby on the way — because at the end of the day, that's all any parent hopes for.
After our appointment we called my folks to tell them the good news! They're currently out of state and since they wouldn't be here for our gender reveal get-together (more on that later), we wanted to share with them right away. Which again, brought more tears to my eyes! I swear I haven't been quite this emotional during my pregnancy thus far, but I have a feeling that these tears are just a small dose of what's to come as baby and I get bigger and I feel him kicking more — which he's actually doing right now!
Aside from just calling and telling our family and friends the good news, we thought it would be to have a small get-together to share the word. The amazing folks over at Park Haus, an incredible Airbnb right off of downtown Gilbert, graciously let us use their space to share the news of our baby boy! We wanted to keep things pretty casual, so we ordered Rudy's BBQ for dinner and grabbed drinks and desserts at Costco. We actually had Rudy's for our rehearsal dinner before our wedding, so it felt like tradition at this point. We also decorated the house with pink and blue balloons, chamomile flowers and and an "Oh Baby" sign — again, super casual and felt just like us!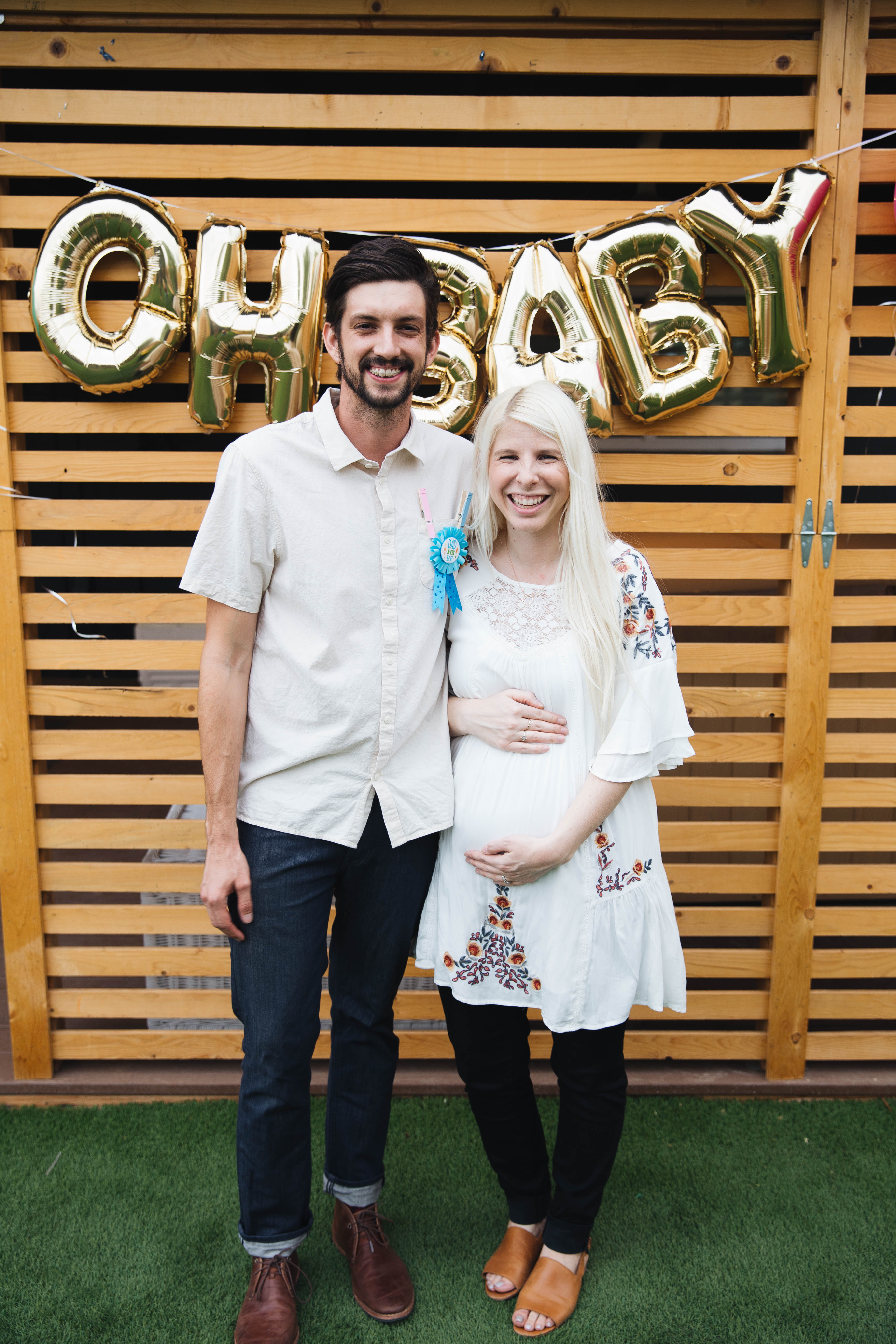 Once everyone arrived, we decided to share the good news! We had a big black balloon filled with blue confetti and Scott did the honor of popping it in front of our family and friends! I swear a giant, audible "Awwwwwh" was let out by everyone and lots of hugs and "I knew it" were shared soon after. Our sweet friend, Katie, had made a little boy and girl sign that everyone had to sign/put down there guess before the party started — and although team girl seemed to winning, everyone immediately turned to team blue once the word is out! We're having a mini Scott they all said, which sounds like the cutest thing to me!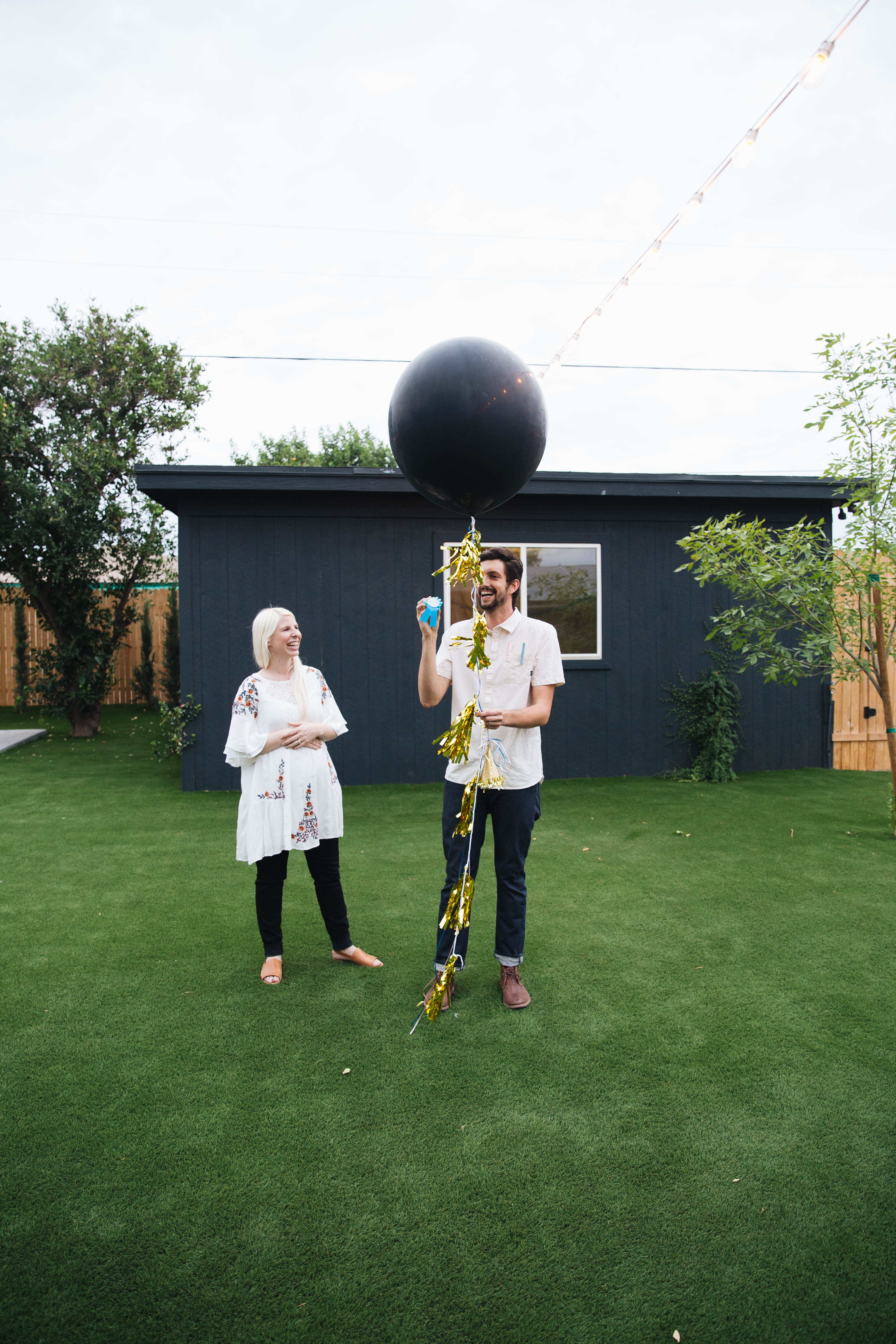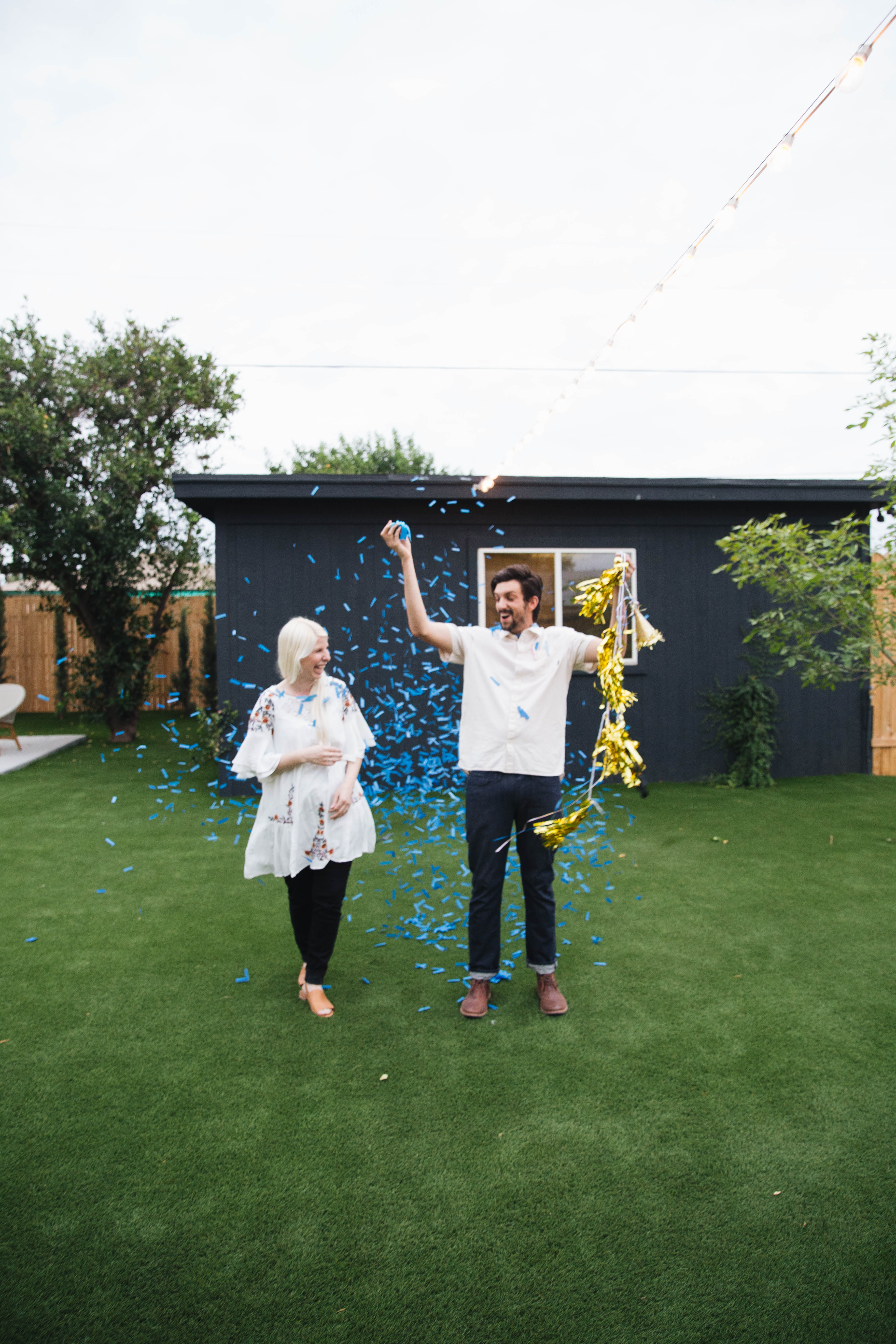 Once we found out the good news and shared with our family and friends on Friday, we decided to take an extra day to share the good news here! Just like when we found out we were pregnant, it felt nice to have a little time to ourselves  to celebrate our baby boy together. We event went out and  bought a few baby clothes, like this little onesie and hat from Local Nomad and this sweater from Nordstrom, and also had a few celebratory treats at Urban Cookies — Scott even had one of their Father's Day specials, a maple bacon donut with a giant piece of bacon on it!
And today, Scott's first Father's Day, feels that much more special because we know that we're celebrating him and our baby boy — who I know will be attached at the hip and making all the fun projects together down the road. Happy Father's Day, my love, you're going to be the best dad EVER!
Thank you all SO much for celebrating with us! We couldn't be more grateful and excited to meet this baby boy come November! Until then, please send me lots of links to cute baby boy clothes — I'm officially on the hunt!
-Chelsea xo